No.
Part # / Description
/ Price
Price
Trans Pan
3.0L, from 5-28-03. 2.5L turbo. 2.0L, auto transmission.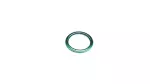 Drain Plug Gasket
A compromised drain plug gasket on your Subaru Outback's oil pan can cause oil leaks and lead to further engine damage which can end up costing you money. Keep your engine running at it's best, and keep money in your pocket by replacing your drain plug ...
Drain Plug
Transmission Drain Plug
2.5L turbo. 3.0L.
Related Parts
Part # / Description
/ Price
Price